I meant to put this up before the season, after the ref clinic.
I wish I had a better reason for missing my own deadline, but I don't. I was waiting for a response from the MLB in regards to my written request to use its logo. Request ignored. Bud Selig might or might not hate kickball – he might or might not see it as direct competition to the baseball fan base. Or I might have sent my request to the wrong Bud Selig.
No need to memorize all those annoying little rules now (except for the ones that I excluded).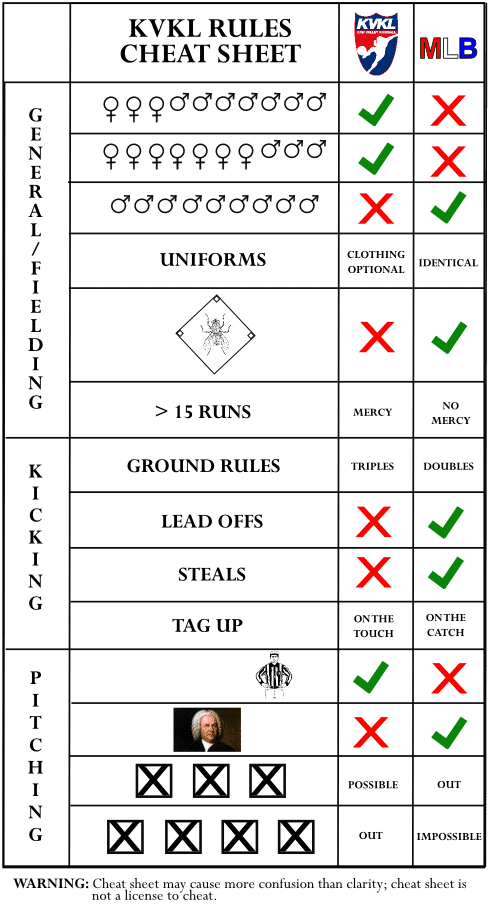 Moving on.
Big picture, I'm not sure if week 2 is an anomaly or a transition into a new phase of the league – better defense resulting in lower scores. It was windy, but there have been weeks like that before, and it never seemed to affect the games like last week.
I'm going to whip out some third grade graphing skills for a sec.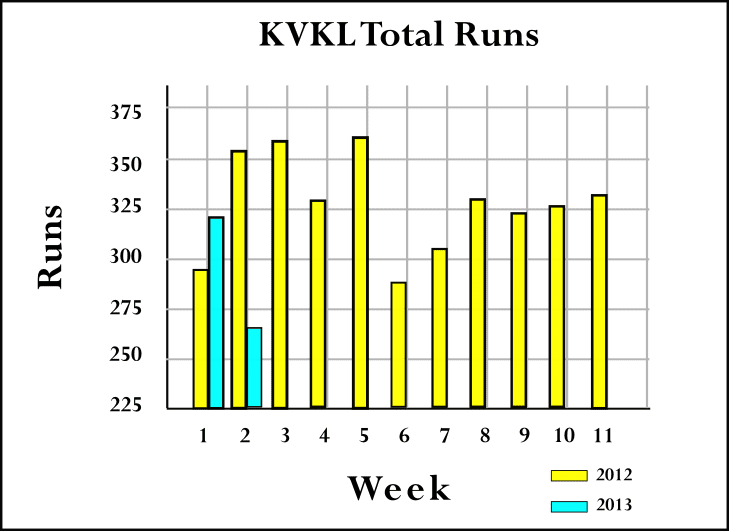 The league scored 264 runs last week. That would have been the lowest total on a Sunday for all of last year. The lowest scoring weekend last season was 285 runs on week 6. This is the main reason the over/unders were so off the mark last week. (That and bad intel.)
I expect the total runs to climb back up this week.
| | | | | |
| --- | --- | --- | --- | --- |
| | | | | |
| Favorite | Line | Underdog | | O/U total runs |
| Abraxas | 14 | Jazzhaus | | 22 |
| Love Garden | 13 | BP Tigers | | 22 |
| Reign of Terror | 13 | Tellerdactyls | | 20 |
| Slowride | 12 | Harper Valley | | 16 |
| Goats | 11 | Free State | | 22 |
| After Party!! | 10 | Rats | | 23 |
| Hurtz Donut | 9 | Ghosts | | 15 |
| Das Boot | 8 | Toe Pokes | | 17 |
| Chalmersiz | 7 | Balls Deep | | 18 |
| Asteroid Head | 7 | $P@C3Pu$$y! | | 26 |
| Wildman | 7 | Rockets | | 20 |
| Corksuckers | 6 | West Coast | | 22 |
| Los Matadores | 6 | MUrda | | 25 |
| Screamers | 4 | Liberty Hall | | 16 |
| Brew Ballers | 3 | Dirty Mike | | 21 |
| Happy Shirt | 3 | Red Lyon | | 17 |
| | | | | |
| | | | | |